In conversation with Michaela Yearwood-Dan and Maria Baibakova
Presenting "You May Blame Aphrodite But I Can Only Blame You"
This event will begin at 6:30pm and finish at 8:30pm
Free admission for Patrons – please register
The fifth edition of The Art of Empowerment will be launched on Tuesday, 7 November at an invitation-only event featuring a conversation between Michaela Yearwood-Dan and Maria Baibakova at Ladbroke Hall, London's new cultural arts space acting as a springboard for emerging talents in the arts. Yearwood-Dan's "You May Blame Aphrodite But I Can Only Blame You" will be on view at Ladbroke Hall for the general public from 10:00 to 18:00 on 8th and 9th November, and from 10:00 to 16:00 on 10th November. The edition will then be available for purchase by the public from 11:00 on 8th November on the website of UN Women UK.
'You May Blame Aphrodite But I Can Only Blame You' (2023) is Yearwood-Dan's first foray into textile works. The artist, who is known for her lush, brightly-hued paintings and ceramics, draws on a diverse range of influences throughout her practice, including Blackness, queerness, femininity, healing rituals, and carnival culture.
Moving freely between media, Yearwood-Dan embeds botanical motifs and diaristic meditations within brushy abstract forms and heavy drips of paint. At once personal and political, Yearwood-Dan's practice frequently reflects an inviting domesticity. Resisting any singular definition of identity, she explores the possibilities of creating spaces—physical, pastoral, metaphorical—that allow for unlimited and unbounded ways of being.
Find Out More about UN Women UK, The Art of Empowerment: Website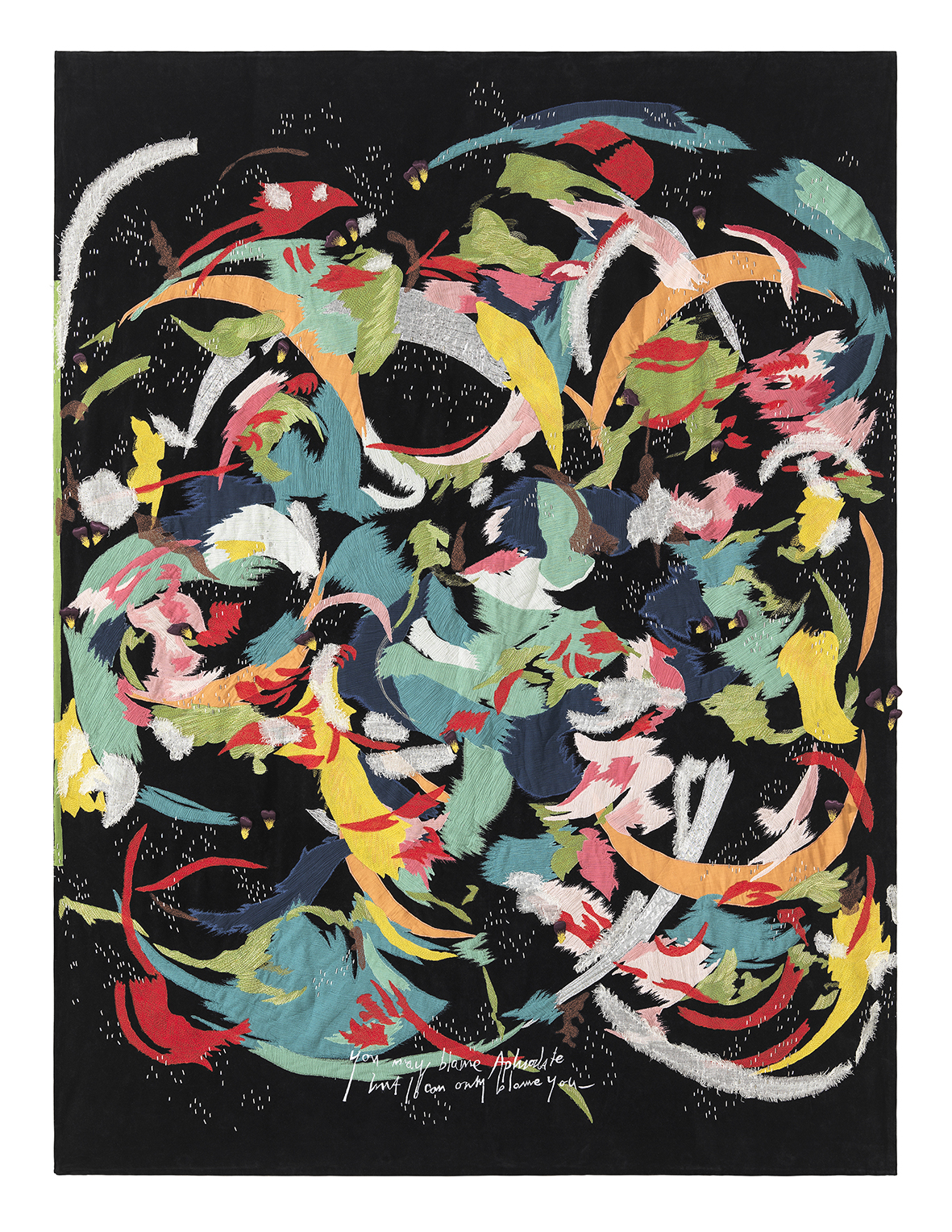 Michaela Yearwood-Dan
"You May Blame Aphrodite But I Can Only Blame You"
2023
Appliqué and embroidery on velvet
140 x 184 cm (55 x 72.5 inches)
Edition of 30, plus 2 Artist Proofs
Signed and numbered by the artist on reverse
7,500 GBP